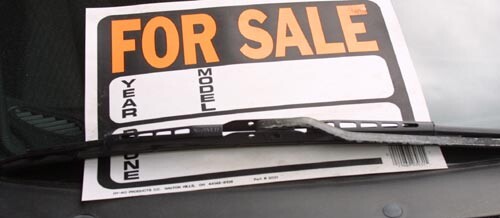 So you've decided it's time to get a car that is newer and more reliable. Or maybe you need to replace that hot little sports car with a more responsible and useful minivan for your growing family. Whatever the case may be, you've decided on selling your car to help pay for the new one or maybe you just need the cash.
There are a few different ways you can go about selling your old car. You can either trade it in at the dealer where you are buying your new car, sell it privately or sell it to a car buying specialist like Trade-In Solutions Irvine. However, before you begin the process, there are some things you should know about selling a car using each of these methods.

Dealer trade in
This is by far the simplest way to sell your current vehicle. Go to the dealer where you are buying your new car, hand them the keys and they will give you the trade in value of your car which you can apply to your new car.
This may be the simplest way but it is also the costliest. Dealers are notorious for not giving you the best price for your trade in. And if you want to sell them a car without buying a new one from them, you get even less.
 
Sell your car privately
Selling your car yourself may gain you a better selling price, however, it comes with its own set of drawbacks, in the end, you usually don't wind up with as much money as you thought you would.
First, you will most likely need to pay to have some repairs done on the car, pay to have the car professionally detailed and pay to advertise the car if you want to get as much money as possible from the sale. You will also need high quality photos taken that show your car in its best form to get prospective buyers interested.
Next, are the safety concerns involved in selling your car. Even if your car isn't a Porsche or a Bentley, it's still worth a considerable amount of money and auto thieves have proven they will steal any make and model if they feel they can make money on it. You never know who you'll be dealing with when someone comes out to look at your car.
 
Sell your car to Trade-In Solutions Irvine
By far the easiest, least stressful and most profitable way to sell your car, is to take it to the professionals at Trade-In Solutions Irvine. At Trade-In Solutions Irvine, customers are treated to a simple three step process of selling their vehicle:
Make an appointment

Have an inspection and appraisal

Get a check
Trade-In Solutions Irvine is so confident that you will be completely satisfied with your appraisal and offer to purchase your car that they suggest you go to a traditional dealer first and get a written offer and then bring it to them and they'll beat it.
When it comes time to sell your car, don't waste time only to receive a lower sale price and don't waste money and your your safety just to sell your car privately. Schedule a no hassle appraisal with Trade-In Solutions Irvine, where you always get the best price for your car without the stress and hassle.
Share