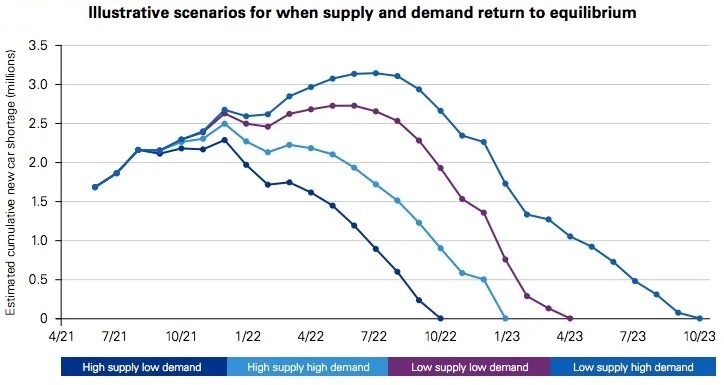 The coronavirus pandemic impacted world economy and harmed all industries. Supply chains has been damaged all around the world. Prices went up dramatically. People who would normally buy new products turned to used ones because of the lower prices. For the same reason consumers rushed to the used-car market and that drove up used car prices. For example, Manheim's used car auction prices raised around 44 percent in a year during the pandemic. (From November 2020 to November 2021)
But now everything is going to be changed. After two years, factories reopen again and start manufacturing their products. As a result, prices go down gradually. We can expect more reasonable fees in the car market as well.
No one can predict the future, but one thing is certain: higher prices lead to lower demand. When people stop spending money there will be a recession and that causes the dropping of the prices again. There are different scenarios for the future of used-car market, but most analysts believe the bubble of this market will burst not only because of recession. They name two more reasons for it: Chip manufacturing and Interest rate. Let's run through all three key factors:
In contrast to previous year, automakers have access to the chips they need for their new cars, which means there will be more new products in the market.
The Federal Reserve raised interest rates for the fourth time this year. That affects auto loan rates too. They will be increased and due to that the demand will decrease.
American economy is slowing down. It is a clear sign of an upcoming recession. Of course, the prices don't go down immediately and wildly but the market will soften over time. As they say the pandemic boom is cooling.
How to prepare for the recession? Isn't it better to sell our cars at the beginning of a recession and buy same things later with lower prices? Well, for most people it is difficult to live and get around without a car even for few months but if you decided to sell your auto for any reason it's better to do it sooner than later.
If you're looking to sell your used car, let us give you a hassle-free appraisal. We can match or beat most dealer offers. Our appraisal process takes less than an hour and we give you cash offer same day! Schedule an appointment today! Book Appointment
Share