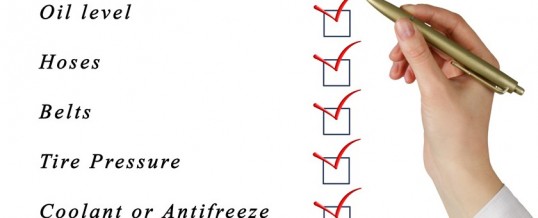 April is National Car Care Month and there's no better time to talk about a car maintenance checklist. Especially since a survey conducted, by the Car Care Council, in April 2015 has shown that 84 percent of vehicles need some sort of service or parts. This figure is up 5 percent from 2014.
Neglected vehicle care almost always means the car will have much higher costs in the future in the form of more extensive repairs or lost resale value. The results of this survey show that a majority of vehicle owners could save money by being proactive in the maintenance of their second largest investment.
When checking lubricants, the three that were neglected the most included: low washer fluid at 27 percent; low or dirty motor oil at 25 percent; and low, leaky or dirty coolant at 17 percent. Power steering, brake and transmission fluids were also checked, and had failure rates of 13 percent and below.
Under the hood, 18 percent of vehicles needed a new air filter and 13 percent had the "check engine" light on. In other areas of the cars surveyed, 16 percent of them had front windshield wiper failures, and at least 11 percent of the vehicles needed lights replaced, including headlights, brake lights and license plate lights.
Whether you do it yourself or take your car to a professional service technician, National Car Care Month is the perfect time to focus on your vehicle's maintenance needs to make sure it is ready for the upcoming spring and summer travel season.
Keeping up with a regularly scheduled maintenance programs can wind up saving you a lot more money further down the road. Taking care of small problems now, will keep them from becoming bigger problems in the future.
And if you're thinking of selling your new or used car, let our professional appraisers give you a no hassle, top dollar appraisal at absolutely no charge. If you like what you hear, we'll give you cash on the spot. It really is that easy!  Just Click on the link https://youtu.be/2B1aIsyUv0k to learn more!
Share